17 Most Famous Sales Books of All Time
Andriy Smytsniuk
Why do you need these famous sales books? Do you feel like you need to make more sales and you don't know what to do? Well, that is exactly how I felt some time ago. As a sales professional, I should have found a solution for my problem. I have discovered these books. Those are the famous sales books for professionals in sales techniques, strategy, and account management. These are the most famous sales books of all time. They helped me to learn great sales techniques that I apply in my work of a professional salesman.
All these sales strategy books are available on Amazon and most of them you can find on other websites for free. Those famous sales books are very well known in helping thousands of sales professionals to reach their goals.
Authors: Marylou Tyler (@maryloutyler), Jeremey Donovan.
This is one of the most famous sales books specialized in lead generation. This famous sales book provides the strategies that you need to build a solid pipeline. And it doesn't matter whether you're a sales or marketing executive, team leader, or CEO of a company. This powerful approach to B2B prospecting will help you to:
Identify the prospects with the greatest potential.

Install account-based sales development using ideal account profiles.

Refine your lead targeting strategy with an ideal prospect profile.

Start a conversation with people you don't know.

Land meetings through targeted campaigns.

Build personalized e-mail and phone messaging to address each potential buyer.

Define, manage, and optimize sales development performance metrics
You'll learn how to target and track ideal prospects, optimize contact acquisition, improve performance, and achieve your revenue goals. This sales strategy book has some charts and email templates. It features full online access to sample materials, worksheets, and blueprints. You can add them to your prospecting tool kit.
Authors: Aaron Ross (@motoceo), Marylou Tyler (@maryloutyler).
This is another famous sales book that concentrates on getting leads to business. This book will help you to discover the outbound sales process that, in just a few years, helped add $100 million in recurring revenue to Salesforce.com, almost doubling their enterprise growth … with zero cold calls.
This is NOT another book about how to make cold call or close deals. This is a new kind of sales bible for CEOs, entrepreneurs and sales VPs. This sales guide will help them to build a great sales machine. What does it take for your sales team to generate as many highly-qualified new leads as you want, create predictable revenue, and meet your financial goals? This salesmanship book gives you all the answers to these questions.
Authors: Jeb Blount (@SalesGravy), Mike Weinberg. 
Step by step, Jeb Blount outlines his innovative approach to prospecting that works in the real world, with real prospects. The reveal the secrets, techniques, and tips of top earners. You'll learn:
Why the 30-Day Rule is critical for keeping the sales pipeline full.

Why understanding the Law of Replacement is the key to avoiding sales slumps.

How to leverage the Law of Familiarity to reduce prospecting friction and avoid rejection.

The 5 C's of Social Selling and how to use them to get leads to call you.

How to use the simple Telephone Framework to get more appointments fast.

What to do to double call backs with a powerful voice mail technique.

How to leverage the powerful 4 Step Email Prospecting Framework to create emails that compel leads to respond.

How to get text working for you with the 7 Step Text Message Prospecting Framework.
This book for sales professional is filled with the powerful strategies, selling techniques. It also has tools that you need to fill your sales pipeline with high-quality opportunities.
Author: Art Sobczak (@ArtSobczak).
This famous sales book knows that cold calling is not only one of the fastest and most profitable ways to start a new sales contact and build a  business. It's also one of the most dreaded — for the salesperson and the recipient. Smart Calling has the solution: Art Sobczak's proven system that he calls  'Never-experience-rejection-again'.
Other books on cold calling dispense long-perpetuated myths such as – salespeople need to "love rejection". But this sales book aims to empower readers to take action, call prospects, and get 'Yes' every time. This sales strategy book states:
Updated information reflects changes and advances in the information gathering that comprises the "smart" part of the calling.

Enhances the value and credibility of the book by including more actual examples and success stories from readers and users of the first version.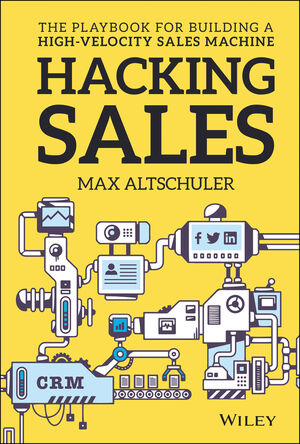 Author: Max Altschuler (@MaxAlts)
This famous sales book helps you transform your sales process using the next generation sales techniques. Max Altschuler helps companies build modern tech sales processes that generate more revenue and uses fewer resources. In this book, he shows the most effective changes that you can make, starting today, to evolve your sales and raise the bar. You'll walk through the entire sales process, learning critical hacks on your way. You will:
Find and capture your lowest-hanging fruit at the top of the funnel.

Build massive lead lists using ICP and TAM, use many sales strategies.

Perfect your follow-ups and nurture leads.
You'll also build, refine, and enhance your pipeline over time, close deals faster, and use the right selling techniques for the job—this book is your road map to fast and efficient revenue growth.
Author: Chet Holmes (@ChetHolmes).
Chet Holmes is a corporate trainer, strategic mastermind, business growth expert, and lecturer. His numerous clients have included major companies like Pacific Bell, NBC, Citibank, Warner Bros., as well as small businesses of every kind. Holmes has also designed hundreds of advertising campaigns and sales systems for different industries.
His salesmanship book shows you how to tune up and soup up every part of your business. All this every sales professional can do, spending an hour per week on each impact area you want to improve.
Author: Jeffrey Gitomer (@gitomer).
Jeffrey Gitomer's Sales Bible was listed as one of "The Ten Books Every Salesperson Should Own and Read" by the Dale Carnegie Sales Advantage Program. It is a classic sales book. Now completely revised, this famous sales book is available for the first time in paperback. The Sales Bible has helped tens of thousands of salespeople all over the world reach their potential and close the big deal. Gitomer gives sales professionals book with the right answers to the toughest questions:
How to make sales in any economic environment.

Twenty-five ways to get that most-elusive appointment.

Top-down selling.

How to fill the sales pipeline with leads.

What to do to make leads ready to buy.

How to make more sales in half the time.
Author: Grant Cardone (@GrantCardone).
The 10 X Rule explains how to be a strong leader for a successful sales process. This famous sales book unveils the principle of "Massive Action". It allows you to blast through business cliches and risk-aversion. This great book also demonstrates why people get stuck in the first three actions and how to move into making the 10X Rule a discipline. It helps you to find out where to start, what to do, and how to follow up each action you take with more action to achieve 'Massive Action' results in your sales process.
This book for sales professionals helps you with these aspects:
Learn the "Estimation of Effort" calculation to ensure you exceed your targets.

Make the Fourth Degree a way of life and defy mediocrity.

Discover the time management myth.

Get the exact reasons why people fail and others succeed.

Know the exact formula to solve problems.
Author: Tom Hopkins (@TomHopkinsSales).
This is one of that old famous sales books that educates on how to reach success in sales. It includes new information about using the latest research sales techniques and using e-mail and online resources to generate deals with your leads more quickly and efficiently.
Hopkins places emphasis on prepared conscientiously planned presentations. He analyzes basic needs, how to know product and prospect, who to sell, what to sell and how to do that. He lays out a program for a positive approach, ways in which to give a verbal picture, and how to stay away from argument.
Author: Frank Bettger.
How I Raised Myself from Failure to Success in Selling is a  famous sales book for anyone whose job it is to sell. Whether you are selling cars, or houses, or advertisements, or ideas—or anything else—this book is for you.
When Frank Bettger was twenty-nine he was a failed insurance salesperson. By the time he was forty he owned a country estate and could have retired. What are the secrets of sales techniques that turned Bettger's life around from defeat to success and fame as one of the highest paid salesmen in America?
The answer is inside this classic sales book. Bettger reveals his personal experiences and explains the foolproof principles that he developed and perfected. He shares instructive anecdotes and guidelines on how to develop the style, spirit, and presence of a winning salesperson.
Author: Dan Englander (@DansPalace).
From selling millions in high-end video services and managing projects in the New York advertising world, Dan Englander learned that most companies don't take the right steps to farm repeat business. Instead of focusing on lead generation tactics, a replicаblе аccоunt mаnаgеmеnt prоcеss will prоduce bеttеr and faster returns. Еnglаndеr's 102-stеp guіdе wіll shоw yоu hоw to crеаte оne for your business.
From this bооk you can learn how the top account managers do:
Systematize repeat business.

Achieve flexibility and freedom by keeping a barrier between sales and customer or client service.

Build long-term partnerships by prioritizing experience over output.

Make life easier by leveraging new apps, tools, sales techniques and high-tech shortcuts.

Maximize networking referrals.
Author: Mark Roberge (@markroberge).
This book for sales professional explains how to leverage technology to enable better buying for customers and faster selling for salespeople.
Business owners, sales executives, and investors are all looking to turn their brilliant ideas into the next $100 million business. Often, the biggest challenge they face is the task of scaling sales. They crave a blueprint for success but fail to find it because sales have traditionally been referred to as an art form, rather than a science. You can't major in sales in college. Many people question whether sales can even be taught. Sales professionals and entrepreneurs are often left feeling helpless and hopeless.
This book's message is: in today's digital world, in which every action is logged and masses of data sit at our fingertips, building a sales team no longer needs to be an art form. There is a process. Sales can be predictable.
Author: Mike Weinberg @mike_weinberg
In Sales Management. Simplified. Weinberg tells it straight – calling out the problems plaguing sales forces and the costly mistakes made by even the best sales managers. The good news are: With the right guidance, results can be transformed. Blending blunt, practical advice with funny stories from the field. This is a piece of our famous sales books list that  helps you:
Install a simple framework for sales leadership.

Foster a healthy, high-performance sales culture.

Conduct productive meetings.

Create a killer compensation plan.

Put the right people in the right roles.

Coach for success.

Keep top producers and remediate underperformers.

Point salespeople at the proper targets.

Sharpen your sales story.

Regain control of your calendar.
Author: Jeffrey Gitomer (@gitomer).
Salespeople hate to read. That's why classic sales book is short, sweet, and to the point. It's packed with answers that sales professionals are searching for to help them make sales for the moment―and the rest of their lives.
Little Red Book of Selling is the most creative of our list of famous sales books. It addresses sales with a lively combination of humor and professionalism to help salespeople get their feet in many more doors. For those who are running into dеаd ends, stаle lеаds, prіce objеctіоns, and unrеturned phоne calls, Gitomer hаs crеаtеd The Little Red Book of Selling to show them how to get past the usual obstacles and sell their products and services with new zest and vigor.
Author: Brian Tracy (@BrianTracy).
Brian Tracy is Chairman and CEO of Brian Tracy International. His company specializes in the training and development of individuals and organizations. This sales professional has consulted more than 1,000 companies and addressed more than 5,000,000 people in 5,000 talks and seminars throughout the US, Canada, and 55 other countries worldwide. Brian Tracy speaks for 30 years in the fields of economics, business, philosophy, and psychology. He is the top selling author of over 45 books that have been translated into dozens of languages. This author is also one of the most famous sales books writers of all time.
The purpose of this famous sales book is to give you a series of ideas, methods, strategies, and sales techniques that you can use apply to make more sales. Faster and easier than ever before.
It's a promise of prosperity that sales guru Brian Tracy has seen fulfilled again and again. More sales professionals have become millionaires as a result of listening to and applying his ideas than from any other sales training process ever developed.
Author: Daniel H. Pink (@DanielPink).
It doesn't matter whether we're employees pitching colleagues on a new idea, entrepreneurs enticing funders to invest, or parents motivating children to study. We spend our days trying to move others. Like it or not, we're all in sales now.
This is one of the famous sales books that offers a fresh look at the art and science of selling. As he did in 'Drive' and 'A Whole New Mind', Daniel H. Pink draws on a rich trove of social science for his counterintuitive insights. He reveals the new ABCs of moving others (it's no longer "Always Be Closing"), explains why extraverts aren't the best salespeople, and shows how giving people an "off-ramp" for their actions can matter more than actually changing their minds.
Along the way, Pink dеscribes the six compоnents of a successful elevator pitch. He tells you the three rules for understanding anоther's perspеctive, and the five frames that can make your message more clearer and persuasive. The result is a perceptive and practical book – one that will change how you see the world and trаnsform what you do at work, at schооl, and at homе.
Author: Jill Konrath.
Selling to big companies is one of a famous sales books that educates you on how to make B2B sales. Setting up meetings with corporate decision makers is very hard nowadays. It's almost impossible to get them to pick up the phone. They never call back. And if you do happen to catch them, they blow you off right away.
It's time to stop making endless cold calls or waiting for the phone to ring. In today's crazy marketplace, new sales strategies are going to penetrate these big accounts.
With this sales book you'll discover how to:
       Target accounts where you have the highest likelihood of success.

       Find the names of leads to your business.

       Create breakthrough value propositions that capture their attention.

       Develop an effective, multi-faceted account-entry campaign.

       Overcome obstacles and objections that derail your sale efforts.

       Position yourself as an invaluable resource, not a product pusher.

       Have powerful initial sales meetings that build unstoppable momentum.

       Differentiate yourself from other sellers.
These 17 most famous sales books include tips from the greatest marketing guru. It also teaches you sales techniques that every sales professional can use in sales process right now. If you are interested in sales – make sure you have read our article on How to Turn Your Leads into Sales and good luck with your business! Hope these famous sales books will serve you well.